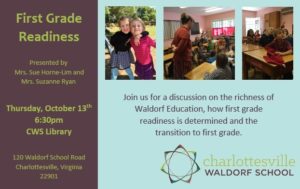 In preparation for the First Grade Readiness event this week, we thought it would be nice for everyone to hear Kate Walter's presentation on the First Grade experience from last year's Windows on Waldorf event.  Kate discusses classroom routines, the relationship between language and story, and the origins of the alphabet.
Please come join us this Thursday, October 13th from 6:30pm – 8pm and enjoy an evening with Early Childhood Teacher, Sue Lim, and current 5th Grade teacher, Suzanne Ryan, as they speak on the intricacies of First Grade readiness (https://www.facebook.com/events/1063140247087339/).
We look forward to seeing you there!