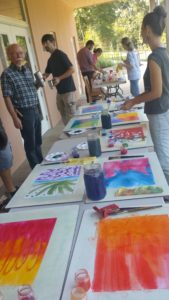 This week I had a chance to sit down with Michael Wright, the Faculty Chair at the Charlottesville Waldorf School–we discussed the weekly Wednesday Coffee Mornings that he hosts and why he thinks that it's so important that parents, families, and other members of the community have a chance to experience what a waldorf student learns and practices within our classrooms.
Please enjoy my conversation with Michael Wright.
These delightful and informative Coffee Mornings are held in the CWS Library from 8:15am-9:30am (and sometimes longer for those who are interested in staying) on every 1st, 2nd, and 4th Wednesday of the month during the school year.
On the 3rd Wednesday of each month we will have the PA meetings hosted by Liz Koors, the PA Chair, during which class parents share some of the details of what's been happening in each class.
Please join us–we look forward to seeing you there!
Podcast: Play in new window | Download