The seasonal festivals celebrated throughout the year are an essential part of life at a Waldorf school. Teachers may also choose to celebrate other seasonal or cultural festival days. Nursery and Kindergarten families should check with their teachers to see which of these school-wide events their classes will attend and how they will be celebrated.
Major Festivals of the Year
Michaelmas
The Festival of Courage takes place in late September, as the entire school community assembles as a medieval village and watches the tale of St. George and the Dragon enacted by one of the grade school classes. Children in older grades then set up "tasks of courage" for their younger grade school peers, culminating in a raid on the "dragon's lair."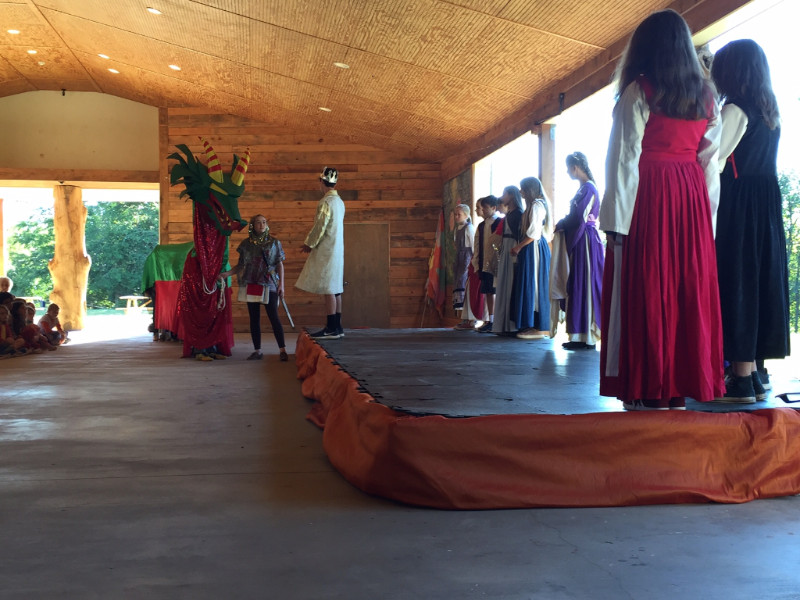 The Spiral of Lights
Celebrated close to the winter solstice, this Festival of Love and Light marks the presence of growing light in the darkest time of the year. Participants walk through a spiral to light a candle and add their gift of light to all.
The Spring Celebration
This Festival is celebrated close to the spring equinox, which often falls near Easter and Passover. It marks the birth of new life and rebirth of the earth each spring. Various activities have become traditional at CWS and often include faculty performances for the children, a school-wide shared meal, a middle-school egg drop, and early childhood and early grades hunt for treasures.
May Day and May Fair
May Day is celebrated at CWS and takes place on or near the first of May. The early childhood classes make festive May crowns and all the children dance Maypole dances. In the grade school, the fourth grade, dressed in colonial costumes, performs several Maypole dances while the fifth grade plays traditional songs on recorder, as the other grade school classes look on. Later in the day, a small May Fair takes place in the Pavilion, with booths run by the middle school students for the enjoyment of the children in the lower grades.
---
Events
The Annual Holiday Bazaar 
First Saturday of December
This is a true family-friendly event where all ages can enjoy traditional craft-making and shop from local artisans in a festive celebration of the season. The Holiday Bazaar usually takes place on the first Saturday in December each year.
Activities
Secret Garden: Visit the magical place where children ages 3 – 8 choose holiday gifts for friends and family.
Cookie Decorating: Come decorate cookies with your favorite toppings!
Leather Stamping: Stamp your own leather bracelets and necklaces.
Candle Holders: Make a candleholder and adorn it for the holidays!
Candle Dipping: Come build your own beeswax creation.
Wreathmaking: Make a wreath, large or small.
Jump Rope Making: Spin your own handmade jump rope.

and more!
---
Assemblies and Performances
Grade school students perform five times during the school year:
Harvest Assembly (October)
Winterfest (February)
Spring Assembly (March)
Music Night (early May)
Closing Assembly (last day of school)
Different grades may perform at each assembly. Watch the newsletter for details or ask your child's teacher. All CWS families are warmly invited and strongly encouraged to attend these performances.
Each class, grades 1-8, performs a play once a year.  Theatrical performances enhance main lesson study and offer students another view into their research of history, literature, and language arts. Dramatic performance allows children the opportunity to act, practice the art of public speech, intone emotion, understand human character, and memorize lines. Students, parents, and CWS friends eagerly await the debut of the class plays each year!
Other annual community events at the school are the Early Childhood Teas, Parent Education Evenings, Grandparents' Day, and the end-of-year Barn Dance as well as a myriad of individual class or family-friendly gatherings. This year's offerings also included a Bingo Night, Playdates in the Park, Pizza Night, etc.